Hi
I was usin XIRR to calclate money-weighted returns for the portfolio and instruments. Moved to the software and decided ot check, whether the PP calculation of TTWROR and IRR correspond to the values that I would have expected to see.
Unfortunately, I recieved quite different results based on a test with one stock: PP reruts gives me positive values, although both Excle's XIRR and IRR calculations give negatives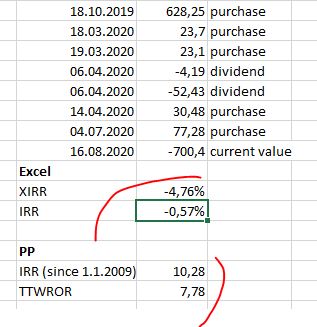 What am I missing here? How can PP calculations be so much off?