Version 0.58.0 / 29 May 2022
New: Update of the Eclipse Framework to version 2022-03 and current Java 11 Runtime
This release updates the Eclipse Framework to version 2022-03. This can lead to PP not starting directly the first time. Whenever the online updater updates itself, it can wobble. If there are problems, try restarting PP again. If that does not help, then re-download.
If you use Windows, then it can make sense to use the Windows installer for PP. It sets the permissions on the directory so that the online update should work in the future (i.e. do not run "as administrator" anymore).
New: Rename columns by right clicking on the column header
With this version you can - do I hear a "finally"? - customize the column names. This is especially interesting if the normal name is much longer than the column width. The whole thing works by right clicking in the column header.

New: Column for distance from moving average (SMA)
The new Distance from Moving Average column shows the percentage distance of the current price from the moving average. This could be displayed visually in the price chart before, now there is the simple possibility as a column.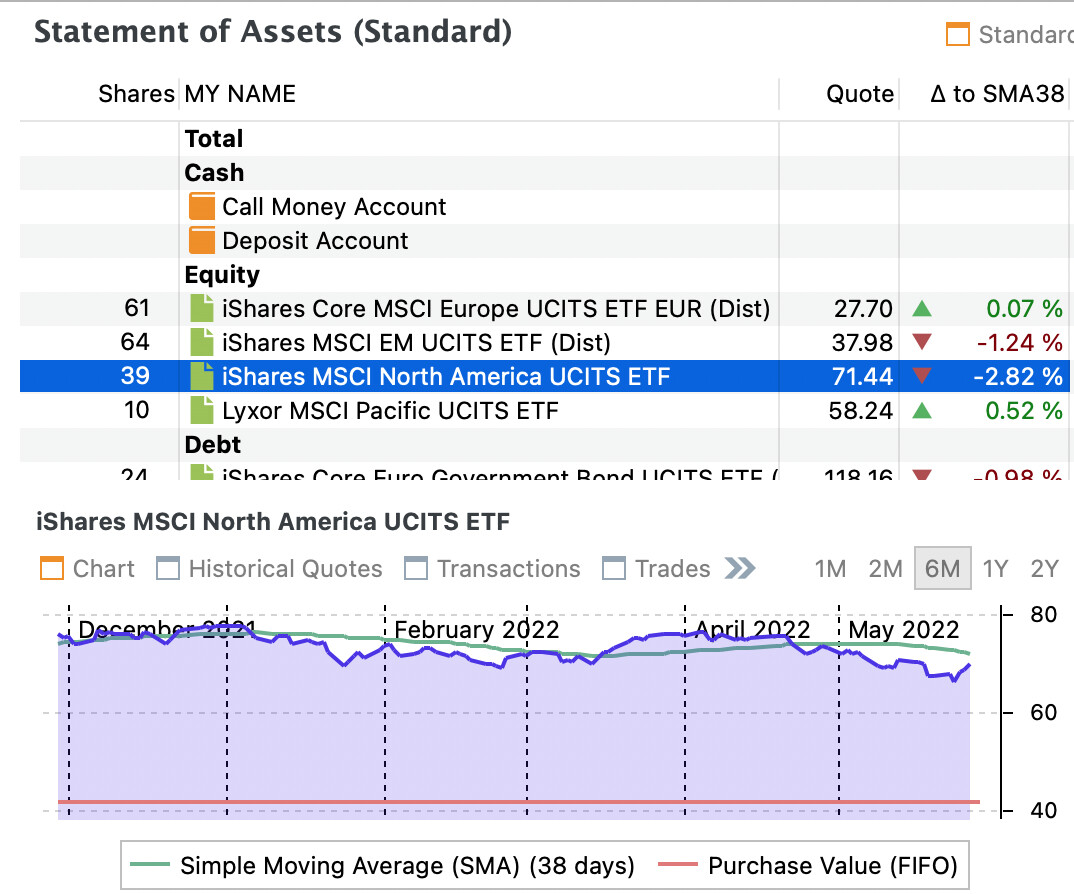 New: More options to create backup files in other directories
All your data within Portfolio Performance is local to you. There is nothing on any server. This also means that you have to take care of the backups yourself. PP always writes two backup files. With the new options you can also put them into a different directory: either you choose a directory, or a directory relative to the current file is always chosen.

Experimental: new binary file format to load and open a file faster
Some of you may have already noticed the option under "Save as…": there is a new binary file format for Portfolio Performance. With this, especially large files are loaded much faster.
The video compares a 60 MB XML file with the same data in the new file format. As you can see, the file on the right loads significantly faster than the file on the left.
I myself have been using the new file format for my own file for a few months now. That's why I'm pretty sure it's stable.
Internally we still work with the same file format. That's why you can still create the XML file via "File → Export → Portfolio Performance XML".
Various other improvements
Improvement: correction of the trading calendars of Vienna, Frankfurt, NYSE
Enhancement: input of amounts supports also a dot (.) as decimal separator if it is the only separator in the input
Improvement: securities events can be displayed in the securities performance as well
Improvement: Optimization of price downloads from Portfolio Report
Improvement of PDF importers: Baader Bank, UBS, DAB, FlatEx, Trade Republic, Comdirect, Degiro, OnVista