Hi all,
I have one ETF, namely IBTS, that is traded in EUR but pays dividends in USD. I use Interactive Brokers and I directly import the activity flex query into Portfolio Performance. However, this is the error I get: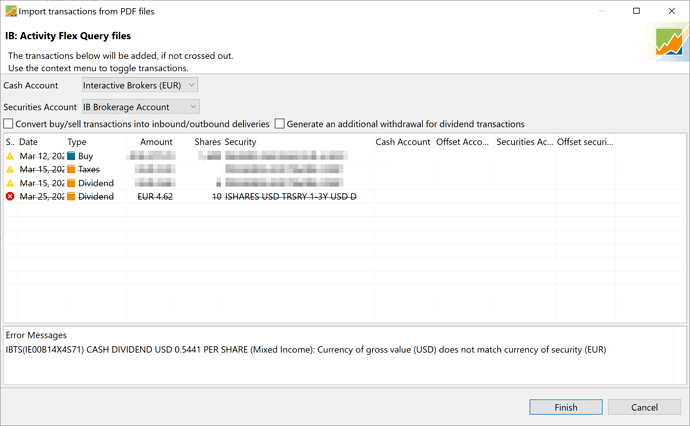 The cash transaction itself seems to be in USD (as expected):
<CashTransaction accountId="REDACTED" acctAlias="" model="" currency="USD" fxRateToBase="0.85004" assetCategory="STK" symbol="IBTS" description="IBTS(IE00B14X4S71) CASH DIVIDEND USD 0.5441 PER SHARE (Mixed Income)" conid="39992906" securityID="IE00B14X4S71" securityIDType="ISIN" cusip="" isin="IE00B14X4S71" listingExchange="AEB" underlyingConid="" underlyingSymbol="" underlyingSecurityID="" underlyingListingExchange="" issuer="" multiplier="1" strike="" expiry="" putCall="" principalAdjustFactor="" dateTime="20210324;202000" settleDate="20210324" amount="5.44" type="Dividends" tradeID="" code="" transactionID="146013111" reportDate="20210325" clientReference="" levelOfDetail="DETAIL" />

How do you deal with multiple account currencies when you import an Interactive Brokers flex query report? On my side, it all goes against the EUR cash account.