Hello friends,
There is a minor issue when using Dark Theme.
Steps to reproduce in Dark Mode.
Under Reports > Securities
If we ADD two or more tabs ( also called VIEW ) then when we switch back and forth,
the sorted column will have white back ground.
It does not matter which column is selected as sorting one.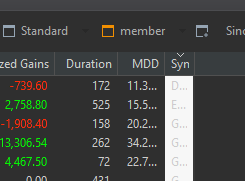 I am using PP with latest update:
Version: 0.56.3 ( Jan 2022)
Platform: win32 x86_64
on Windows 10 ( 21H1)
Keep up the good work.
Thanks.
PS: Maybe due to page translation, cannot select category of post when creating topic. Apologies.