Hello,
I'm trying to track my bitcoin trade with Portfolio Performance.
It's nice but I have a problem with number of share owned/bought : it always display 0 because I bought less than 1btc.
Is there is an option to allow float number to display when value is < 1 ?
I didn't find anything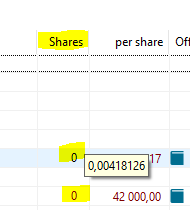 is Portfolio performance still in development ? if it's not possible to display number of share < 1, is there is a way to ask developer for this improvement ?
thank you